Our Founder, Jerome O. Oxman
Jerome O. Oxman was born in Duluth, Minnesota on June 23, 1915. He served in the United States Army during WWII in the Persian Gulf Command. After the war he married Miriam Averbook of Superior, Wisconsin. In 1947 they came to California on their honeymoon and never went back. Mr. "O", as all his friends and family call him, worked for Palley's Surplus in Vernon, California. In 1961 he opened his own mail order business in the garages on Rosecrans that used to be the auto service center for Big A. The Military and Aircraft items that were being processed for sale got so much attention that Mr. "O" had to open the doors to the public so they could see all the interesting items and they began to buy. Oxman's Surplus was born. Oxman's now encompasses the garages and the adjacent 7,500 square foot building.


Jerome Oxman has numerous community service accolades. He is a two time past president of the Associated Surplus Dealers, a national organization. He is a past president of both the La Mirada Chamber of Commerce and La Mirada Meals on Wheels. He served on the Board of Trustees for the La Mirada Community Hospital. He is active in both La Mirada and Santa Fe Springs business and community services. He sponsors beauty pageant contestants, Little Miss Softball, as well as soccer for youngsters of the area. On May 1, 2005, at Dodger Stadium, in a pre game ceremony , he was honored for 40 years of La Mirada Little League sponsorship.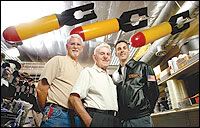 Murray, Mr. "O", Jason


Oxman's is still under the watchful eye of Mr. "O" and Miriam, while their sons Murray and Jason have made Oxman's Surplus their careers. Oxman's now has more new items for sale, however there is still a lot of surplus. Oxman's has a magnificent museum of Military Memorabilia. Customers can sit in a B-17 cockpit, gaze at ejection seats, machine guns, 1942 Newspapers, space suits, empty bombs and shells, a suit of armor, plus 100's of WWI & WWII pieces from the U.S.A. and around the world. 2005 is our 44th year in business here in Santa Fe Springs, and on June 18 we celebrated Mr. "O"s 90th birthday. So come and see the museum, and introduce yourself to a legend.